It's Christmas Eve, so you've probably already filled up on plenty of holiday sweets, but if you'd like some more, try making these adorable little snowmen!
Making these has become a Christmas tradition for me ever since I found the recipe in a magazine and decided to try it. I make a batch every year and always get comments about how cute they are. The first year I made them with a little help from my mom. Another year I had a snowmen making party with three of my friends. We doubled the recipe and it took us a few hours to finish, but we had a great time and I let each of them take a few home to their families. Last Christmas I was away from my family and I moved several times over the break, so I didn't get the chance to make the snowmints. I was hoping that this Christmas I would get to make the Snowmints Snowmen and the chance finally came yesterday afternoon. I asked my grandma if I could make some, and she said yes, but first we had to go to Walmart to grab a couple of the ingredients. My grandma, mom and I each made a few snowmen while Christmas music played quietly in the background. I'm hoping to keep this tradition going and pass it on to future generations.
In a bowl, mix these ingredients together with a fork:
2 Tbl softened butter (do not use margarine)
2 Tbl light corn syrup
1 tsp peppermint extract
1/4 tsp salt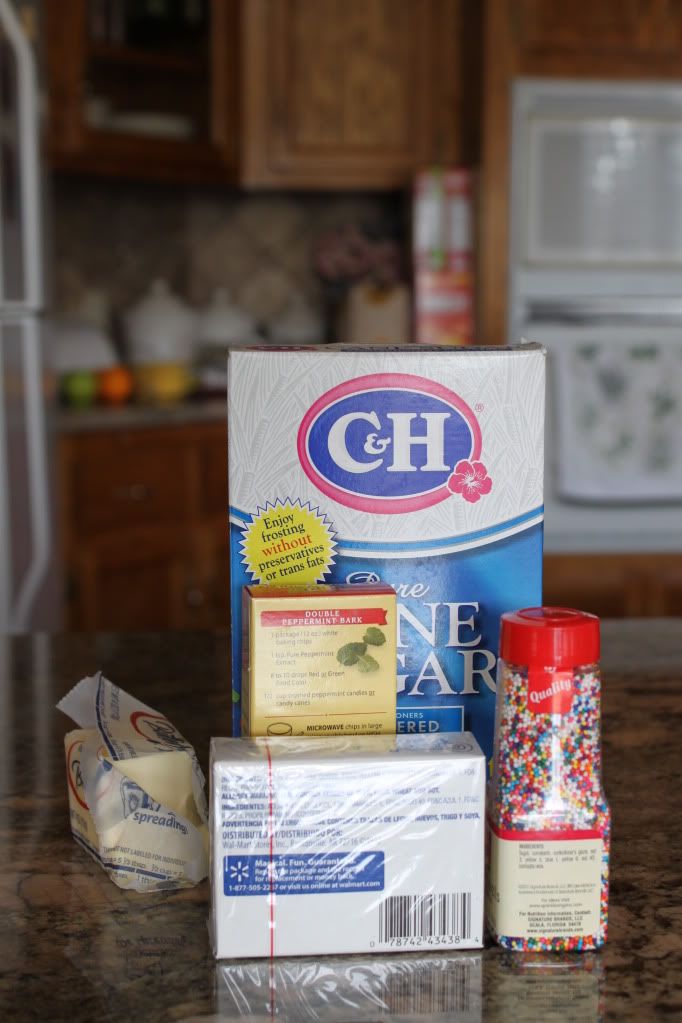 Gradually add
2 cups powdered sugar
. When dough becomes too stiff to stir with the fork, knead with hands.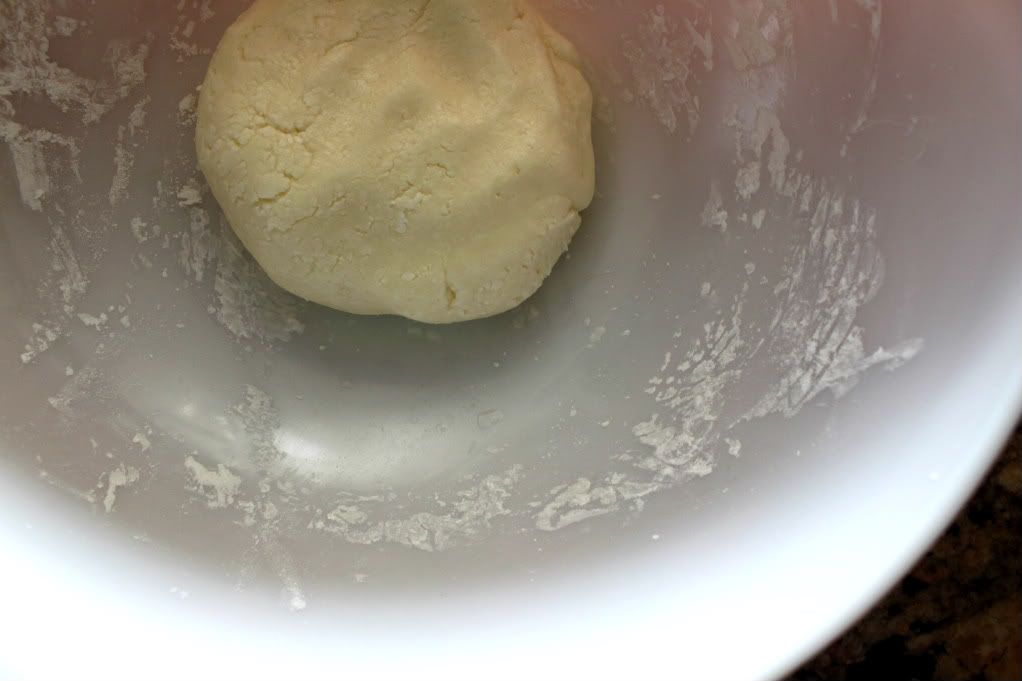 Reserve 1/4 of dough for hats and noses.
Make 12 snowmen with remaining 3/4 of dough by cutting dough evenly into 24
pieces; then roll each into a ball. Using 2 balls for each snowman, stacking
each into a snowman.
Divide remaining 1/4 of dough in half. Knead 1 drop blue food coloring into
one half. Wash hands. Divide remaining dough in half. Knead 1 drop red and 2
drops yellow food coloring into other half to make orange for the carrot
noses. Leave remaining 1/4 dough white.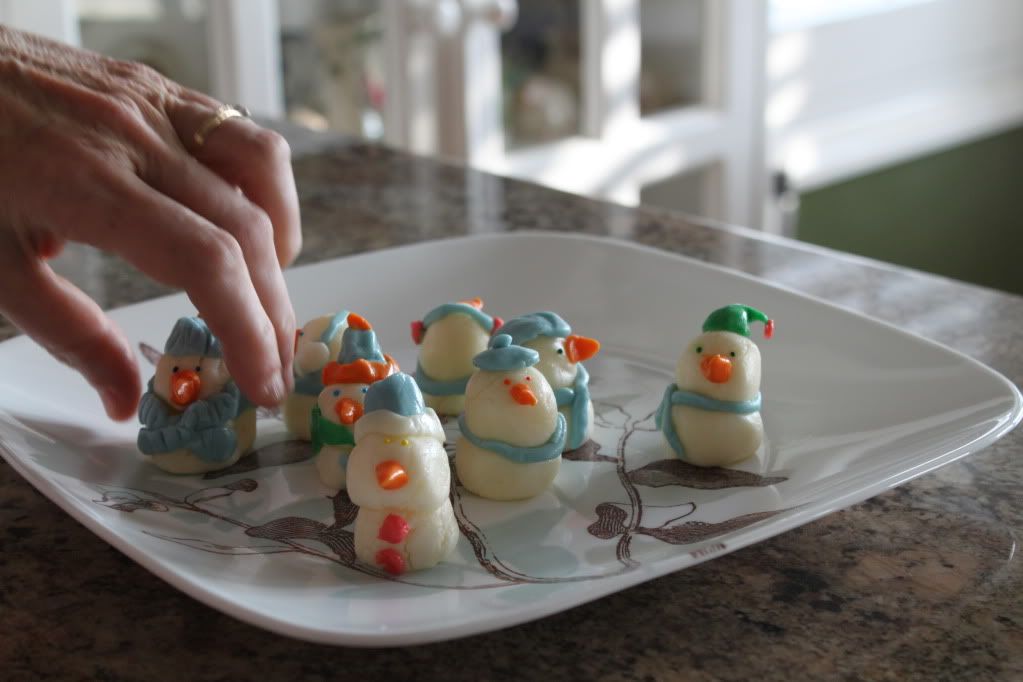 For each snowman, press on 100's and 1000's or small candy sprinkles for
mouth (use 4), eyes, and 3 buttons (leave some snowman without buttons, if
desired). Form a scarf, hat or earmuffs out of blue dough, with white trim.
Form nose out of orange dough. Press features in place.
Store in refrigerator. Makes 12.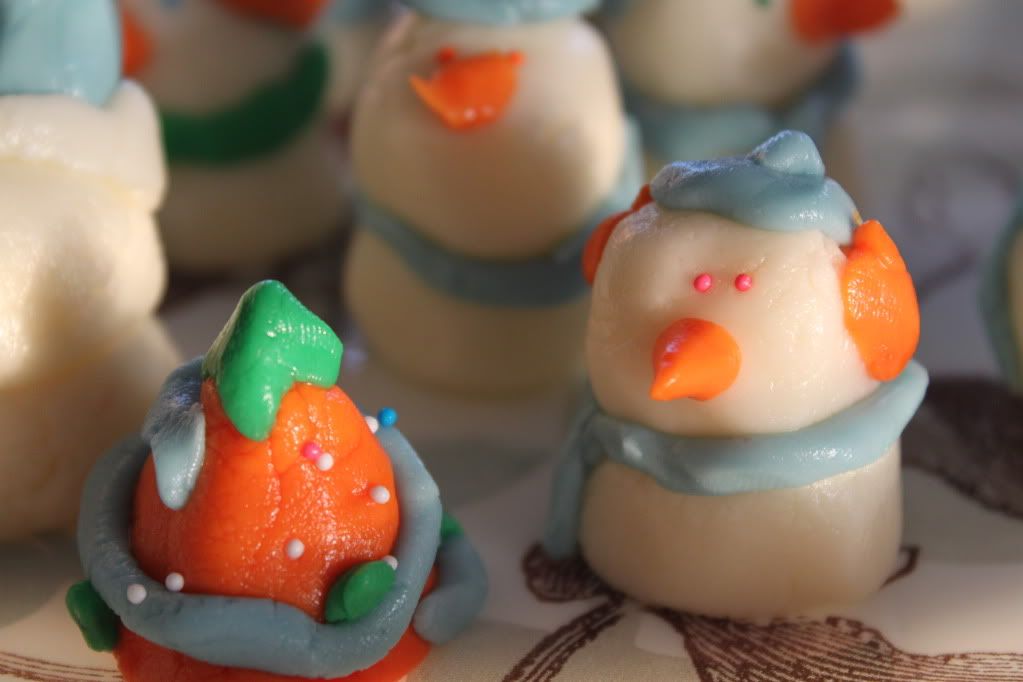 I was feeling creative today so I decided to try and create the Grinch. My Grinch snowman looks nothing like the real Grinch, but it's still pretty darn cute. After we finished making all 12 snowmen, I used the extra dough to create an orange Christmas tree with a blue garland, green ornaments, and a green star tree topper.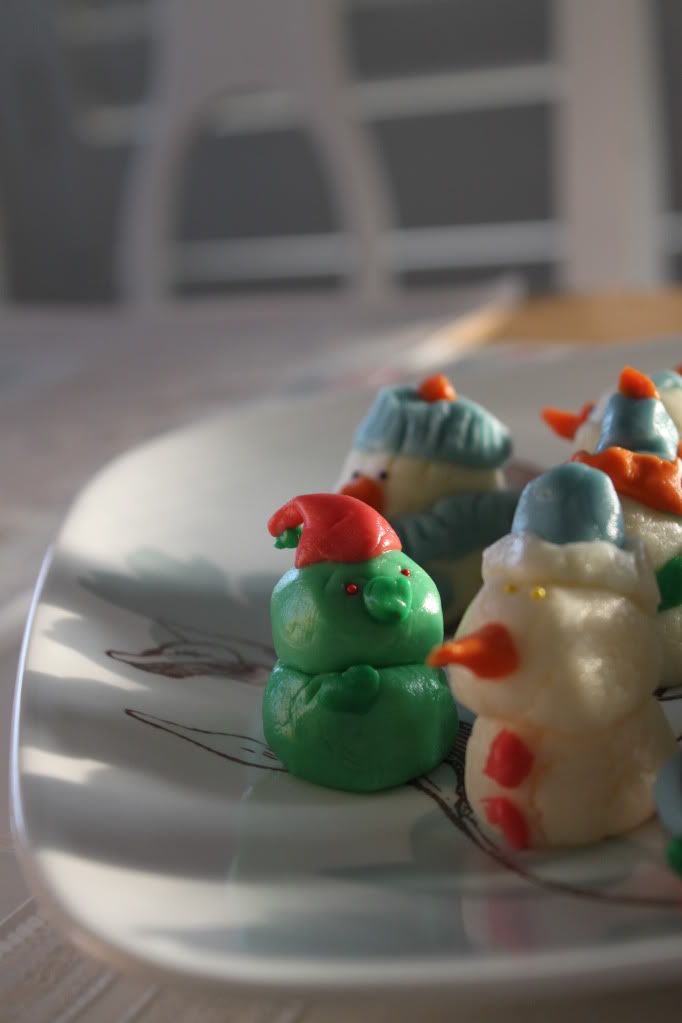 I love this recipe, because it's easy to change it up and be creative. Dye the dough red and blue for Valentine's Day or split the extra white dough in half and dye 1/2 red and 1/2 green. The possibilities are endless!